Computer Specs:
Windows 10 Pro (64-bit) (Creators Update)
Intel Core i5-4590@3.3 GHz 6MB Cache LGA 1150
ASUS ROG STRIX RX 480 08G GAMING
ASUS Z97-A Motherboard
Corsair Vengeance Blue 16GB (4X4 GB) PC3-12800 1600mHz DDR3
24-inch 1080p 144Hz LED Gaming Display with Matte Anti-Glare Finish
In GPU-Z, clock and memory read 0 MHz.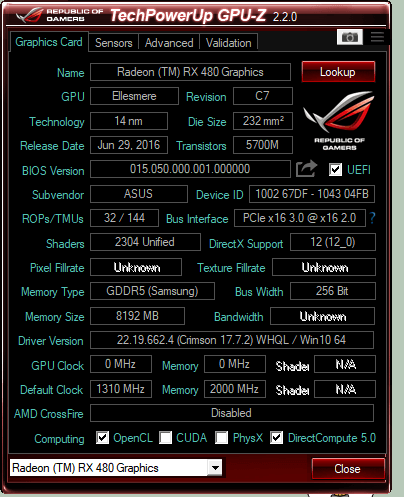 GPU Tweak II reads the OC mode as 20% instead of 105%
Numbers revert back to negative once I click save.
GPU Clock suppose to be at 1330MHz and Memory Clock at 8000MHz.
This is what it's suppose to look like.
Playing Overwatch with the new driver
Crash every ~10mins
sometimes computer freezes and I have to manually reboot.
rendering device lost
GPU temps is the same tho 58°C - 63°C
When I do get to play, FPS is around 50-75 instead of my normal amount of 90-120fps.