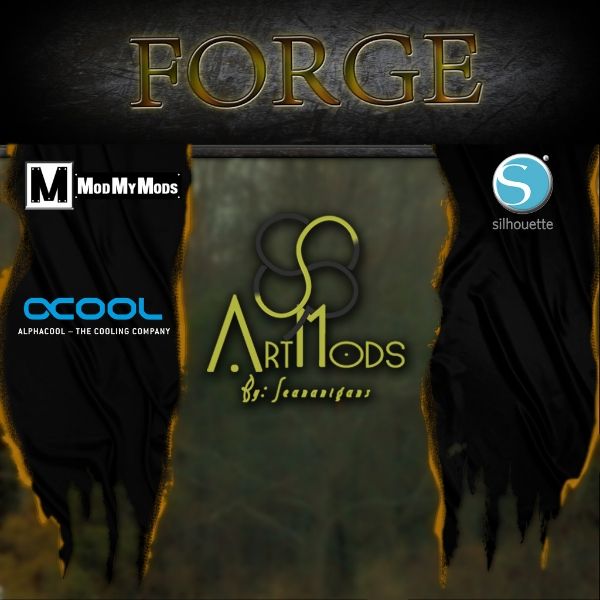 Built by human. Forged in fire.
Warning: This Pre-Built AMD 64 x2 is about to be destroyed! Then brought back from the dead.
I want to thank my new sponsors ModMyMods and Silhouette, and now ALPHACOOL for supporting ArtMods and FORGE.
PC Water Cooling - ModMyMods.com - PC Watercooling Parts and Accessories

Silhouette America - Silhouette America
Welcome to the Forge
This Mod Is built off of a old Pre-Built HP. It bothered me... A LOT! So I decided I do some simple mods to make it better. Then I got carried away.
This mod is/was a "Live update" on twitter and still has a little bit more to go but is slowing down right now. So Join us for the finale! @ArtMods_  Enjoy!
All i can say is... EW, I gotta fix this box of coal.
So ill tare it apart!
New Front Panel. Drawn, Cut, And Painted!
All of this Acrylic is left overs, so I thought one piece looked kind of cool so I'm going to use it.
I made a base plate to display the name "FORGE" and a PSU cover because I am using things that I have. The PSU is original to the case and is... well. Scary.
Printed out the stencils on Vinyl, then I cut them by hand.
Next I use this Putty to create the Molten Steel under the base plate. I highlighted hot spots I wanted to stick out.
I used acrylic paint after the putty dried (took 24 hours) I layered from Light to dark starting from a base coat of White and then dry brushed the yellow,orange, two different hues of red, brown and Carbon black.
I made the Decision that I am not using the original hardware, I am using Mini ITX and AMD Athlon X4 860k and Just because its the only GPU I have in my parts box... a 8800 GTX. Gotta try to find a "R series" GPU.
More to come!