Hello.
After every reboot monitor resolution setting back to 1600x1200. Default monitor resolution should be 1920x1080. Upgrading and reinstalling drivers don't changing anything.
System info:
Windows 8.1 (64 bit)
Drivers version:
          Radeon settings version - 2016.0321.1015.16463
          Driver Packaging Version - 16.15.2211-160321a-301026C
Graphics: AMD Radeon (TM) R9 200 Series (Sapphire Radeon R9 270)
Monitor: LG Flatron W2243s
Processor: QuadCore AMD A8-7600, 3819 MHz (38 x 101)
Motherboard: Asus A88XM-E (1 PCI, 1 PCI-E x1, 1 PCI-E x16, 2 DDR3 DIMM, Audio, Video, Gigabit LAN), Chipset: AMD A88X, AMD K15.3
Memory: Kingston HyperX KHX1866C10D3/4G x 2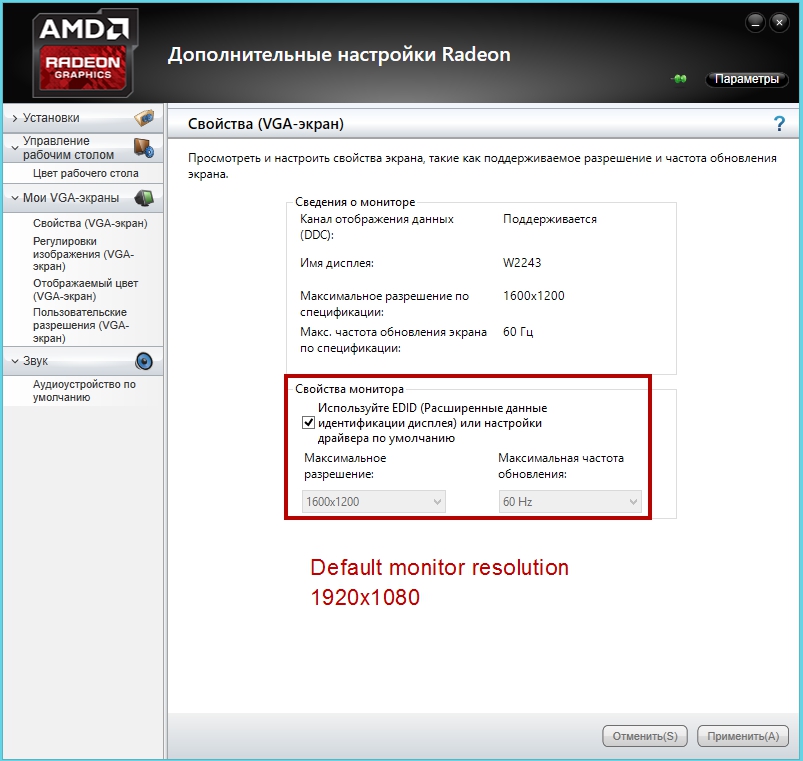 Regards.