Hello All,
Here is my computer.
G.Skill RipjawsX 16GB(2x8GB) 1600MHz DDR3 Ram
Cooler Master Hyper 212X ?ntel 2011/1366/1156/1155/775 AMD FM1/AM Competible CPU Fan
Asus Amd Radeon R9 280X 3GB 384Bit GDDR5 (DX11.2) PCI-E 3.0 Graphics Card
Intel Core i7 4790K 4GHz 8MB Cache LGA 1150 Processor
Seagate Desktop SSHD 2TB 7200RPM + 8GB Hybrid SSD Sata 3.0 64Mb 3.5" Hard Disk
Cooler Master B 600W %85 Efficent Active PFC 120mm Fan Power Supply
Zalman Z3-PLUS(BL) USB3.0 Midi Tower
MSI Z97 GAMING 5 Intel Z97 3300MHz(OC) DDR3 LGA1150 ATX Motherboard
Philips 243V5LHAB/00 23.6" 5ms (Analog+DVI+HDMI) Full HD Led
My problem is while I'm gaming the computer crashes and I need to shut down/reset after that. I think it is GPU related because, the screen froze with some brown/red/stripes bur for example I can keep talking via with Skype. So I guess this means CPU works fine at that time only GPU having problems because I don't get any visuals. And it is almost random. Sometimes it doesn't do that for 2-3 hours sometimes in 1 hour.
Anyway I read and tried a few things. But none of them completely solved my problem. And I'm not sure if I did it right.
The one I believed to be helpful was changing the Clock settings of the GPU. And I have some questions about this.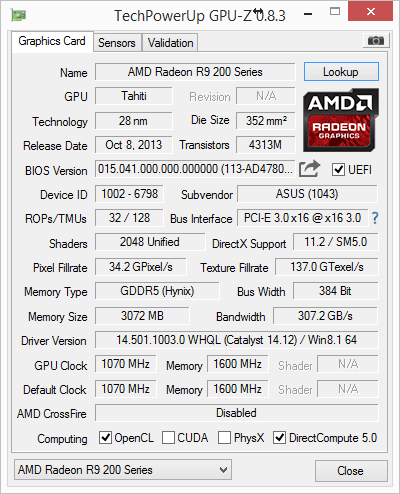 As you can see, with both Trixx and AMD Cataylst Control Center I see the same values for my downgraded clock settings (My Set Values are: 800/1500, Default is 1070/1600). But When I check the the GPU-Z it shows the maximum values as 1070/1600.
So I believe this is where my problem lies. I would be grateful if anyone can help me about how I can change and force my Graphic Card to obey the Downgraded Clock settings or any other solution for this problem.
I didn't overclocked it. As contrary I tried to underclock from its default settings to get rid of this problem. But it seems I can't change the default settings. Because as you can see GPU-Z it still says the current settings = default settings on contradiction to both TRIXX and Cataylst Control Center.
And I can still play games with ultra settings until it crashes. So I don't believe it is fried. Not yet at least
.
I hope someone can help me. I don't know much about how to overclock or underclock and it seems I can't change my default settings (which is 1070/1600). I see some guy solved his problem by changing it to 1000/1500 but even I change it from CCC and Trixx it seems GPU-Z insist the settings is still 1070/1600. So I believe this is where the problem lies. If only I can find a way to change this settings for certain.
Please let me know if I can provide any other information to help you to understand or help me about this.
Thanks in advance to everybody.
Regards,