Mark as New

Bookmark

Subscribe

Mute
DDR4 Compatibility and Support For Future Ryzen Processors
Good Day, I am planning to migrate to AMD Ryzen Platform because of its Multi-Threading Prowess, Power Efficiency Improvements and Indium-Soldered Heatspreader. That's because I am soon going to ditch my current Kaby Lake Platform(Intel Core i7-7700 + Kingston HyperX Fury DDR4 2x8GB 2666MHz + GIGABYTE Z270 ATX Motherboard) because I am having frequent headaches on its Core Temperatures that I have to go through the meticulous process of Undervolting and the hassle of Blue Screens since its Heatspreader isn't soldered to the CPU Die and is instead joined by an inferior paste causing heat to be trapped and eventually build up overtime. Since there are numerous leaks about DDR5 Memory(Higher Clock Speed, Higher Bandwidth, Lower Operating Voltage, Increased Storage Capacity per Module and Tentative Launch Date by 2021), I fear that I might need to once again replace my existing Memory Modules for Compatibility Purposes, I would like to know if existing DDR4 Memory Modules(3200MHz and Above) will continue to be supported on future generations of Ryzen Processors(Zen 3, Zen 4) and AM4 Socket Motherboards(X670, X770)? The potential cash savings by not needing to replace my existing DDR4 Memory Modules will be instead spent on a more capable Ryzen 7/Ryzen 9 Processor and Higher-Tier AM4 Motherboard(GIGABYTE AORUS X570 MASTER/XTREME).
DDR5 Specifications Land: Up To 8400 MHz, Catering To Systems With Lots of Cores | Tom's Hardware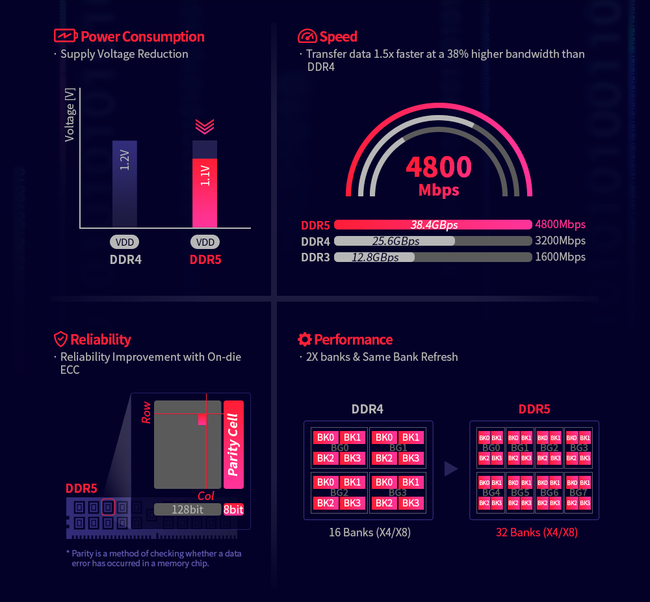 2 Replies
Mark as New

Bookmark

Subscribe

Mute
AMD has remained mute about it, but considering the Covid-19 situation, the fact that DDR5 is not supposed to be on the market in mass production until next year while Ryzen 4000 series desktop processors are due on the market as early as September, and the fact only Threadripper and EPYC will really benefit from DDR5 at first, it's quite likely going to be a DDR4 based Socket AM4 processor without DDR5 capability, with a new socket next year with Zen 4, DDR5, PCIe 5.0, and USB 4. I highly doubt it will be another Socket AM2+ situation with dual memory controller.
Mark as New

Bookmark

Subscribe

Mute
Thanks for the insight!
Anyway, I am very sure Ryzen Threadripper and EPYC Processors will surely love the benefits of DDR5 Memory since the applications or workloads that are catered for them are very hungry for Memory by nature(3D Modelling & Simulation, Professional Grade Graphics Design & Film Making, TV Productions, Enterprise-Grade File Management & Database Software). But I think Mainstream Ryzen Processors(Ryzen 3, Ryzen 5, Ryzen 7 & Ryzen 9) won't benefit as much or won't have noticeable benefits from DDR5 Memory.
Besides, aside from the aforementioned Dual Memory Controller of the previous AM2+ Socket, I also sincerely hope AMD will adopt Intel's concept of UniDIMM(DDR3 or DDR4 on the same Memory Slot) during the release of Skylake when PCs are transitioning from DDR3 to DDR4 Memory. Intel's initial version of UniDIMM were only available to Skylake Laptops/Ultrabooks(DDR3L[Low Voltage] or DDR4) but it never became available on Skylake Desktop Motherboards and Skylake Desktop Processors only support DDR4.
If AMD can guarantee that existing DDR4 Memory Modules(including mine) will continue to be compatible and supported as well on future iterations of Ryzen Processors and AM4 Socket Motherboards, I will completely ditch Intel's products as well as I will also terminate my fanboyism to them.