Mark as New

Bookmark

Subscribe

Mute
Hi,
I'm looking to update my AMD R5 M255 with the newest possible driver.
Laptop: HP ProBook 450G2
CPU: Intel Core i5-4210U
OS: Windows 7 64-bit
Current driver: 22.19.176.1026 - without any software. Through Windows update, see 5. below.
It's been awhile since I've tried updating any software and drivers mainly due to the premise "If it ain't broke, don't fix it" because when I try, usually something breaks. And here I am, I tried running a new game (COD Warzone) and wanted to update Video drivers. What are the newest drivers I can run on my Machine and how to install them? Here's what I've done so far:
1. I had the stock drivers, I believe version 14.x., that came with the laptop, in C:/System/SWSetup/SP70475 is where the Catalyst Control Center setup can be found.
2. I looked up on the AMD site via GPU, it told me Catalyst Control Center is retired, download AMD Adrenaline 2020. I downloaded, installed by doing clean install. Started computer, and AMD systray icon stated "AMD Display driver not found or this is not the appropriate driver". System restore.
3. Downloaded AMD auto-detect tool. Again, it recommended similar driver - not the latest, but previous version which was stable (from Dec 2020). Install, boot, same error. This time there was no system restore available. Just uninstall.
4. Went to a site driveridentifier.com, installed their tool and it told me best driver is sp92097which I downloaded. Installed. Again, it wasn't working.
5. Now these processes switched on Windows update (which I had turned off years ago, Win7 is outdated anyway) and for the last 2 days I've been running updates. Win Update found a driver for my AMD and installed it:
---
When check sys information: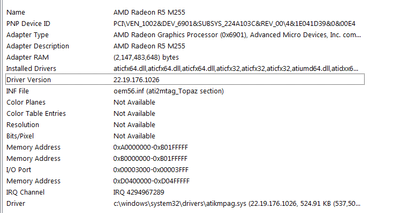 This is what I see. However, I don't think the AMD driver is working properly, but just my Intel, because I just ran a benchmark test from "https://www.userbenchmark.com" and it stated:
WARN: skipping AMD Radeon R5 M255 - unable to locate attached display
(whole report is here: https://www.userbenchmark.com/UserRun/38320351)
At the same time I don't have a Catalyst Control Center or anything by AMD on my laptop.

Where do I go from here? Do I revert to original AMD driver, or is there a newer one I can install ...and how?
Thank you!
-CJ
2 Replies
Mark as New

Bookmark

Subscribe

Mute
Mark as New

Bookmark

Subscribe

Mute
First of all Win7 must be fully updated...service pack and updates. Keep going back until you get the message "There are no more updates available".
You have a Intel graphics chip that must be the latest version offered by Intel and must be installed before the AMD driver. Go to intel support and run the driver finder > https://www.intel.com/content/www/us/en/support/detect.html
Check your laptop manufacturer's website for any bios or chipset updates.