Mark as New

Bookmark

Subscribe

Mute
Problem with switchable graphics Intel4600HD + Radeon 8750M
Hi everyone.
Once again I have problem with graphic card drivers for my Lenovo G510 laptop. Last time i found the solution, but now it doesn't work.
Laptop spec:
CPU: Intel Core i7 4700MQ
GPU: Intel 4600 HD + Radeon 8750M (2GB VRAM 128bit)
RAM: 16 GB Corsair
SSD 250GB
Let's start from the begining. Few months ago I lost oryginal AC adapter for laptop. I had a little short circuit between power socket and my AC adapter (not between AC adapter and laptop). After short circuit laptop starts working in battery mode and performance was low. I bought a new AC adapter, but there was no changes in performance.
What I did so far:
- installed clean windows and all drivers from Lenovo website
- tried both way with intel drivers installed from Lenovo website and installed automatically from Windows Update
- updated AMD driver to the latest version and disabled ULPS
- checked SSD - no problems
- checked RAM with memtest86- no problems
- tried few AMD drivers which was a solution for other people here on forum, each time I used DDU in safe mode to clean previous drivers - no changes
- tried old Catalyst Control Center 13.6 beta2 with disabled .NetFramework, and with turned on.
- tried leshcatlabs drivers
- came back to the AMD drivers from Lenovo website (v15.200)
What I noticed:
- there is no High performance mode in windows power settings, I had to create it
- I'm not sure if the ancient Power Management driver from lenovo works correctly
- Intel drivers from Lenovo website doesn't work correctly (yellow triangle in Device Manager)
- I got "Not responding" messages while run game and loading interface (World of Tanks)
- Very low performance in World of Tanks (the only game I play) 25-40FPS on Low settings, but built-in interface recommends Minimal settings
Here are the World of Tanks minimal requirements:
Operating system: Windows XP/Vista/7/8/10
CPU: at least 2 cores
RAM: 1.5 GB for Windows XP SP3, 2 GB for Windows Vista / 7 / 10
GPU: GeForce 6800 with 256 MB RAM / ATI HD X2400 XT with 256 MB RAM, DirectX 9.0c
I think I should get 25-40FPS on LOW settings only with Intel 4600HD graphic.
When drivers worked correctly i got over 70FPS on LOW and about 50FPS on Medium.
- Few screenshots from GPU-Z
Radeon 8750M info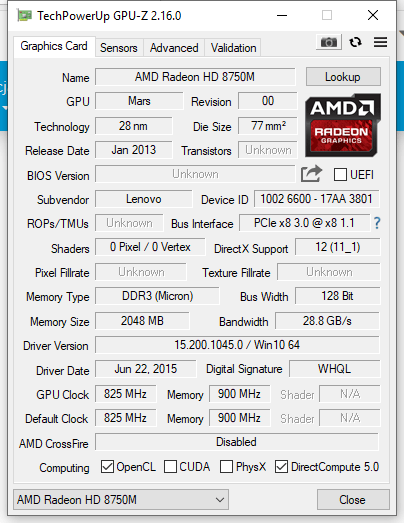 Radeon 8750M performance while writing this topic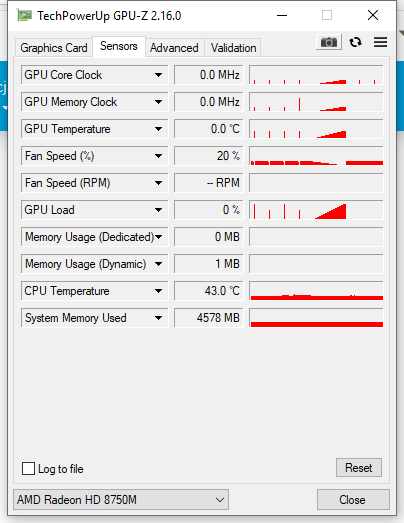 Intel 4600HD info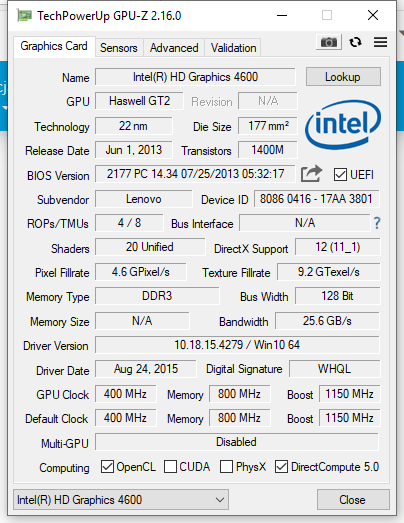 Intel 4600HD performance while writing this topic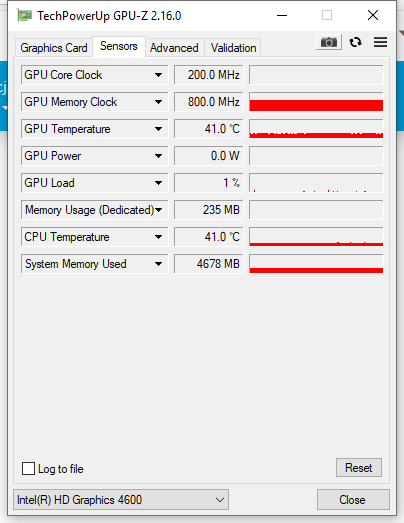 - While playing games (World of Tanks) both GPU are working.
Please take a look at the Low usage of AMD Memory
Screenshot of render test in GPU-Z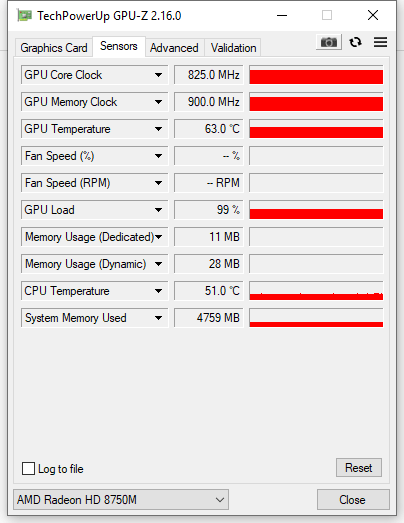 Any idea what could be wrong, and how to resolve the problem before I'll resolve it in hard way?
I've always been curious if this laptop will survieve fall from the 7th floor.
0 Replies