F1 2020: Recommended Settings
adit_bhutani
Staff
Bookmark

Subscribe

Email to a Friend
Shift into high gear with the next installment of the Formula 1 franchise from Codemasters, F1 2020. Following up the critically acclaimed F1 2019 game from last year, F1 2020 builds on the success of its predecessor to provide an authentic Formula 1 racing experience with all your favorite cars and tracks. For the first time ever, players can create their own F1 team by creating a driver, choosing a sponsor, an engine supplier, hiring teammates, and competing as the 11th team on the grid. Build facilities, develop the team over time, and drive your way to the top.
Whether it is your state-of-the-art F1 car or your powerful gaming PC, enthusiasts know exactly what parts they have under-the-hood. AMD Radeon RX 5000 Series GPUs are built to provide an immersive experience in all of today's hottest titles. Testing our revolutionary RDNA based product stack on a system configured with a Ryzen 7 3800X processor, gamers can achieve up to 110+ FPS when using the recommended settings1. At 1080p, the Radeon RX 5500 XT graphics card offers an impressive up to 153 FPS at High settings1.
F1 2020 uses AMD FidelityFX2 Contrast Aware Sharpening (CAS) for fantastic, sharp, and detailed visuals. The key benefits associated with CAS are sharpening and upscaling. By selecting "TAA and FidelityFX Sharpening" in the game's "Video Mode" graphics options, you can restore some of the detail lost after Temporal Anti-Aliasing (TAA) is applied for the best image quality.
Additionally, if you want to boost your FPS even further for the fastest framerates without significantly sacrificing image quality, you can turn on "TAA and FidelityFX Upscaling" instead. By scaling up from a lower resolution, then applying CAS, AMD FidelityFX CAS upscaling delivers the best balance of additional performance and image quality for your monitor's native resolution.
In a game where 1/10th of a second can be the difference in setting a new lap record, Radeon Anti-Lag3 helps reduce input lag which will allow you to make sure that you never miss that split-second gear change. For the best experience, pair your Radeon RX 5000 Series GPU with an AMD FreeSync Premium Pro display4 to ensure you get the best HDR color accuracy and can see every single detail on the track.
F1 2020 launched on July 10, and is currently available on Steam, Google Stadia, PlayStation 4, and Xbox One. The thrill of high-speed competition is made even better with Radeon RX graphics cards and AMD FidelityFX technology. Get Yours Today at - AMD Shop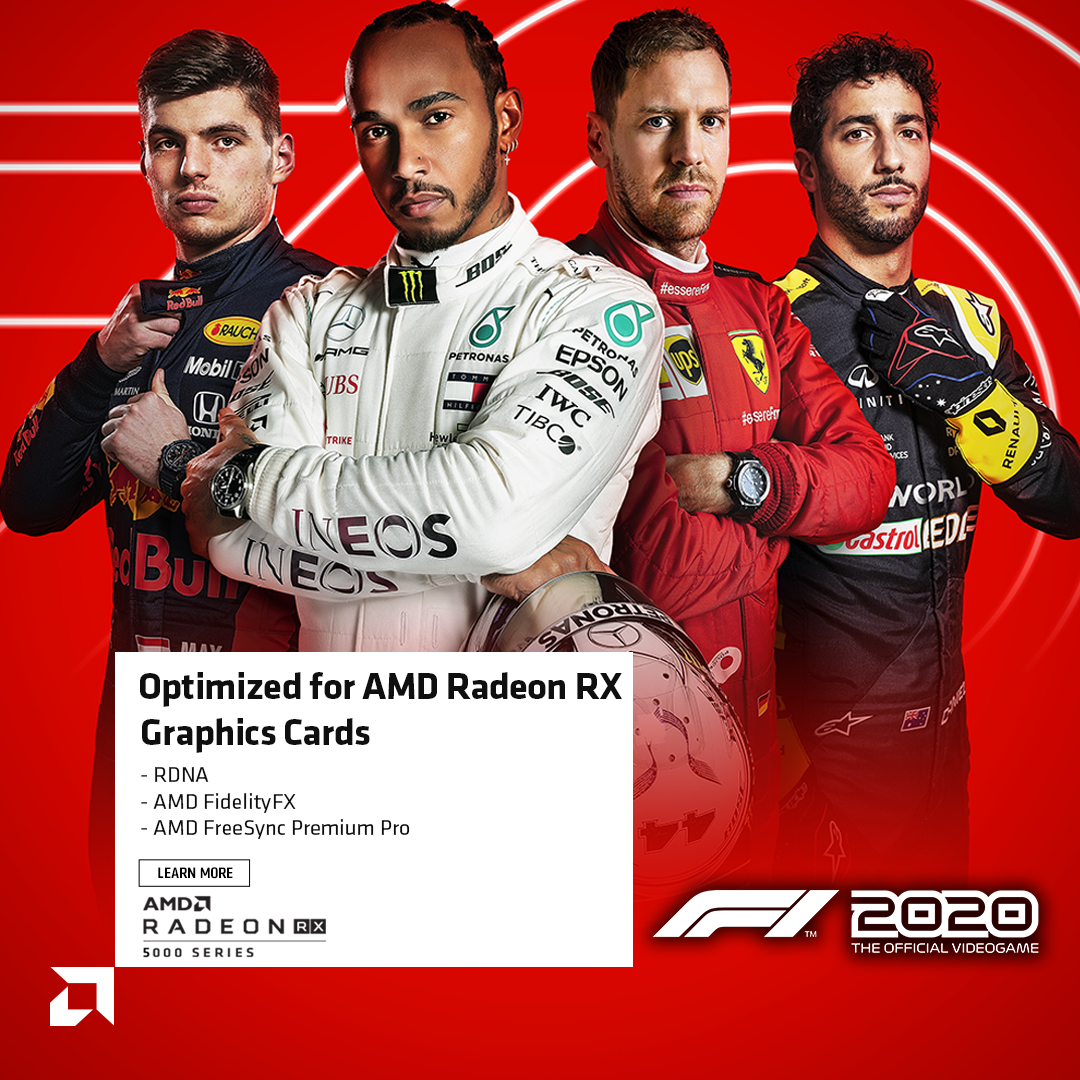 Adit Bhutani is Product Marketing Specialist (Radeon + Gaming) for AMD. His postings are his own opinions and may not represent AMD's positions, strategies or opinions. Links to third party sites are provided for convenience and unless explicitly stated, AMD is not responsible for the contents of such linked sites and no endorsement is implied. GD-5
Testing done by AMD performance labs 05/29/2020 on RX 5500 XT (1080p), 5600 XT (1080p), 5700 (1440p), 5700 XT (1440p) graphics cards with AMD driver 20.4.2, Ryzen 7 3800X processor, 16GB DDR4-3200MHz, GIGABYTE X570 AORUS MASTER, FG5 bios, Win10 Pro x64 18362.175. Game tested was F1 2020 (DX12) at 1080p & 1440p. Performance may vary. RX-494

For additional information, see https://www.amd.com/en/technologies/radeon-software-fidelityfx

Radeon

Anti-Lag is compatible with DirectX 9, DirectX 11, DirectX 12 and Vulkan APIs; Windows 7 and 10. Hardware compatibility includes GCN and newer consumer dGPUs and Ryzen 2000 and newer APUs, including hybrid and detachable graphics configurations. No mGPU support. Certain features require Adrenalin 2020 or later. GD-157

AMD FreeSync

technology requires AMD Radeon graphics and a display that supports FreeSync technology as certified by AMD. AMD FreeSync Premium technology adds requirements of mandatory low framerate compensation and at least 120 Hz refresh rate at minimum FHD. AMD FreeSync Premium Pro technology adds requirements for the display to meet AMD FreeSync Premium Pro compliance tests. See www.amd.com/freesync for complete details. Confirm capability with your system manufacturer before purchase. GD-127
F1
2020 Game - an official product of the FIA FORMULA ONE WORLD CHAMPIONSHIP.
2020 Codemasters. The F1 logo, F1, FORMULA 1 and related marks are trademarks of Formula One Licensing BV, a Formula 1 company. Licensed by Formula One World Championship Limited. The F2 FIA FORMULA 2 CHAMPIONSHIP logo, FORMULA 2, F2 and related marks are trademarks of the Federation Internationale de L'Automobile and used exclusively under license. All rights reserved.
2020 Advanced Micro Devices, Inc. All rights reserved. AMD, the AMD Arrow logo, Ryzen, Radeon, FreeSync, and combinations thereof are trademarks of Advanced Micro Devices, Inc. PlayStation is a registered trademark or trademark of Sony Interactive Entertainment Inc. Stadia is a trademark of Google Inc. Steam is a Steam and the Steam logo are trademarks and/or registered trademarks of Valve Corporation in the U.S. and/or other countries. Xbox is a registered trademark of Microsoft Corporation in the US and/or Other countries. Other product names used in this publication are for identification purposes only and may be trademarks of their respective companies.